Requirements for Entries
Entries must be a new game mode for Dota 2, heavily themed around Frostivus.
Entries must be multiplayer, with a maximum of ten (10) players. The game mode may be cooperative or competitive among the players.
Entries can only have two sources for game materials: (a) original content created by one of the named contributors to the Workshop submission, or (b) content from any Valve game. No third party content may be included. You are free to use any Valve game IP in your entry.
Technical requirements:

Memory requirement: Entries must be able to run in 32-bit mode when using the -2gb command line option.
CPU requirement: The lobby host must be able to run at the lowest video settings at 30hz on a high end machine.
Crash frequency: Entries may not have frequent or simple to execute paths that result in crashes.
UI Framework: Entries must use Panorama.

Multiple submissions per person are allowed.
Submissions must be free of advertisements.
How to Enter
Three steps are required to enter the contest:

1. Upload the entry submission to the Dota 2 Workshop
2. Identify all contributors to the submission and receive their confirmation, including percentage shares for the prize.
3. Tag the submission with "Frostivus 2017" on the Dota 2 Workshop.

All three steps must be completed by the entry deadline of 04:00:00 Pacific Time on the morning of November 20th, 2017.
By entering the contest, you agree that if your entry is chosen as a winner, you will not receive revenue share from Valve under the Workshop Supplemental Terms. The only compensation for the winning entry will be the prize described below.
Prize
Submissions will be reviewed by the Steam community on the Steam Workshop. The winning entry will be selected by Valve in its sole discretion. Valve will announce the winning entry on the Dota 2 blog within a maximum of eight (8) weeks after the entry deadline.
Valve will award $30,000 to the winning entry. The prize will be divided among the winning contributors in accordance with the percentages the contributors establish during the Workshop submission process. Entrants must complete Workshop contributor documentation in order to be paid.
Other people helped me with my submission. How do I add them as co-authors?
Once you've uploaded a submission, it should appear in the videos section of your Steam Community page. From here, simply click on the video; once it pops up, click on 'View Comments and Details' to view Owner Controls and add contributors.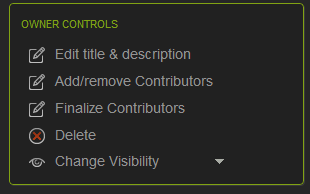 Clicking 'Add/remove Contributors' will pop up a dialog showing you your friends list. Click on friends to select them as co-authors of your submission.
Your friends should then receive an email letting them accept or decline whether they are a contributor to the submission. Remember to get your co-authors to accept before the deadline!