Guidelines
Entries must be no longer than 90 seconds.
Entries must pertain to Dota 2.
Entries can use any form or combination of animation or live-action technique in their creation. Using Source Filmmaker is not a requirement.
Each entry must be at least 1080p.
The deadline for submission will be 04:00:00 PDT on the morning of August 7th, 2018. The submission process must be completed, including uploading the video and filling out submission dialogs, before the submission period ends.
Submissions will be reviewed by the Steam community on the Steam Workshop. The top entries will be selected by Valve in its sole discretion to be featured in The International 2018 Battle Pass for a final vote by the Battle Pass community, and the winners will be announced at The International 2018.
The video must be a new creation made specifically for the Dota 2 Filmmaker Contest.
You are free to use any Valve IP.
If you use any non-Valve IP, you must be the copyright owner or have explicit permission from the owner. You will be required to warrant to Valve that you have all necessary rights and permissions in order for the entry to be considered. Any submissions found to be infringing non-Valve IP will be disqualified. Note that for workshop items, you still need to provide a link to the items used, but you do not need explicit permission from the creator, since submission to the workshop automatically grants permission to use the item.
Multiple submissions per person are allowed.
Submissions must be free of advertisements.
Prizes
Each of the top submissions will be featured in The International 2018 Battle Pass for a final selection process by the Battle Pass community, and the winning entries will be announced and showcased on the screens and stage of The International 2018. Valve will award $25,000 to 1st place; $10,000 to 2nd place; $5,000 to 3rd place; and $500 to each of the other seven finalists. If your video is selected to appear in The International 2018 Battlepass, you will be contacted via the email address registered to the Steam account(s) linked on the Videos workshop page.
Hvordan uploader jeg en indsendelse?
Gå til indsendelsessiden for kortfilmskonkurrencen her. Log ind og erklær dig enig i aftalen.
Når du har erklæret dig enig i aftalen så gå til siden "Videoer" på din Steam-profil, som kan findes i Steam ved at holde musen over dit kontonavn, vælge "Indhold" og derefter "Videoer", eller ved at bruge følgende link: http://steamcommunity.com/my/videos/
Hvis du end ikke har tilknyttet din YouTube-konto til din Steam-profil, så er du nødt til at gøre dette ved at klikke på knappen "Tilknyt YouTube-konto" øverst til højre.
Når din YouTube-konto er tilknyttet din Steam-konto så klik på knappen "Tilføj videoer fra YouTube" fra din side "Videoer".
Vælg videoen, du vil uploade fra listen over dine YouTube-videoer, og når du bliver bedt om det, så vælg "Tilknyt videoen/videoerne med et spil" og vælg "Dota 2 - Short Film Contest". Klik derefter på knappen "Tilføj video".
Du har nu indsendt din video til Dota 2-kortfilmskonkurrencen.
Hvordan vurderer jeg videoindsendelserne?
Hjælp med at vurdere og diskutere videoindsendelserne ved at besøge 
fællesskabssiden for Dota 2-kortfilmskonkurrencen
.
Andre folk hjalp med min indsendelse. Hvordan tilføjer jeg dem som medforfattere?
Når du har uploadet en indsendelse, så bør den blive vist i sektionen "Videoer" på din Steam-fællesskabsside. Derfra skal du blot klikke på videoen. Når den åbner så klik på "Se kommentarer og oplysninger" for at se ejerstyring og tilføje bidragydere.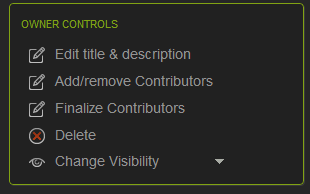 At klikke på "Tilføj/fjern bidragydere" åbner en dialogboks som viser dig din venneliste. Klik på venner for at vælge dem som medforfattere af din indsendelse.
Dine venner bør derefter modtage en email, som lader dem enten acceptere eller afvise, at de har bidraget til indsendelse. Husk at få dine medforfattere til at acceptere før indsendelsesfristen!
Hvordan ser jeg tidligere indsendelser?
You can view The International 2017 submissions
her
.