Guidelines
Entries must be no longer than 90 seconds.
Entries must pertain to Dota 2.
Entries can use any form or combination of animation or live-action technique in their creation. Using Source Filmmaker is not a requirement.
Each entry must be at least 1080p.
The deadline for submission will be 04:00:00 PDT on the morning of August 7th, 2019. The submission process must be completed, including uploading the video and filling out submission dialogs, before the submission period ends.
Submissions will be reviewed by the Steam community on the Steam Workshop. The top entries will be selected by Valve in its sole discretion to be featured in The International 2019 Battle Pass for a final vote by the Battle Pass community, and the winners will be announced at The International 2019.
The video must be a new creation made specifically for the Dota 2 Filmmaker Contest.
You are free to use any Valve IP.
If you use any non-Valve IP, you must be the copyright owner or have explicit permission from the owner. You will be required to warrant to Valve that you have all necessary rights and permissions in order for the entry to be considered. Any submissions found to be infringing non-Valve IP will be disqualified. Note that for workshop items, you still need to provide a link to the items used, but you do not need explicit permission from the creator, since submission to the workshop automatically grants permission to use the item.
Multiple submissions per person are allowed.
Submissions must be free of advertisements.
Prizes
Each of the top submissions will be featured in The International 2019 Battle Pass for a final selection process by the Battle Pass community, and the winning entries will be announced and showcased on the screens and stage of The International 2019. Valve will award $25,000 to 1st place; $10,000 to 2nd place; $5,000 to 3rd place; and $500 to each of the other seven finalists. If your video is selected to appear in The International 2019 Battle Pass, you will be contacted via the email address registered to the Steam account(s) linked on the Videos workshop page.
Hoe upload ik een inzending?
Ga naar de overeenkomstpagina van de kortefilmwedstrijd hier. Log in en accepteer de overeenkomst.
Wanneer je de overeenkomst hebt geaccepteerd ga je naar de pagina 'Video's' op je Steam-profiel, die je in Steam kunt vinden door over je accountnaam heen te bewegen, Inhoud te selecteren, en dan Video's, of door naar de volgende link te gaan: https://steamcommunity.com/my/videos/
If you have not yet linked your YouTube account to your Steam Profile, you will need to do so by clicking the 'Link YouTube Account' button in the upper right.
Once your YouTube account is linked to your Steam Account, click the 'Add Videos from YouTube' button on your Videos page.
Select the Video you want to upload from the list of your YouTube videos, then when asked, select 'Associate the video(s) with a game', and choose 'Dota 2 - Short Film 2019'. Then click the 'Add Video' button.
You have now successfully submitted your video to the Dota 2 Short Film Contest.
Hoe beoordeel ik de video-inzendingen?
Je kunt video's beoordelen en erover praten door te gaan naar de
Communitypagina Dota 2-kortefilmwedstrijd
.
Andere mensen hebben geholpen met mijn inzending. Hoe voeg ik ze toe als co-auteur?
Wanneer je een inzending hebt geüpload zal deze in de sectie Video's van je Steam Community-pagina verschijnen. Klik vanaf daar gewoon op de video. Wanneer deze verschijnt, klik je op 'Berichten en details weergeven' om de opties voor de eigenaar te zien en bijdragers toe te voegen.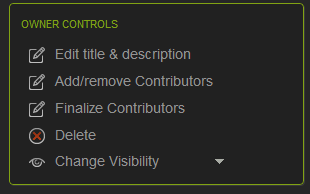 Als je op 'Bijdragers toevoegen/verwijderen' klikt, zal er een venster met je vriendenlijst worden geopend. Klik op vrienden om ze te selecteren als co-auteur van je inzending.
Je vrienden zullen vervolgens een e-mail ontvangen waarmee ze akkoord of niet akkoord kunnen gaan om een bijdrager van de inzending te zijn. Denk eraan om je co-auteurs voor de deadline akkoord te laten gaan!
Hoe bekijk ik eerdere inzendingen?
You can view The International 2018 submissions
hier
.