Guidelines
Entries must be no longer than 90 seconds.
Entries must pertain to Dota 2.
Entries can use any form or combination of animation or live-action technique in their creation. Using Source Filmmaker is not a requirement.
Each entry must be at least 1080p.
The deadline for submission will be 04:00:00 PDT on the morning of August 7th, 2018. The submission process must be completed, including uploading the video and filling out submission dialogs, before the submission period ends.
Submissions will be reviewed by the Steam community on the Steam Workshop. The top entries will be selected by Valve in its sole discretion to be featured in The International 2018 Battle Pass for a final vote by the Battle Pass community, and the winners will be announced at The International 2018.
The video must be a new creation made specifically for the Dota 2 Filmmaker Contest.
You are free to use any Valve IP.
If you use any non-Valve IP, you must be the copyright owner or have explicit permission from the owner. You will be required to warrant to Valve that you have all necessary rights and permissions in order for the entry to be considered. Any submissions found to be infringing non-Valve IP will be disqualified. Note that for workshop items, you still need to provide a link to the items used, but you do not need explicit permission from the creator, since submission to the workshop automatically grants permission to use the item.
Multiple submissions per person are allowed.
Submissions must be free of advertisements.
Prizes
Each of the top submissions will be featured in The International 2018 Battle Pass for a final selection process by the Battle Pass community, and the winning entries will be announced and showcased on the screens and stage of The International 2018. Valve will award $25,000 to 1st place; $10,000 to 2nd place; $5,000 to 3rd place; and $500 to each of the other seven finalists. If your video is selected to appear in The International 2018 Battlepass, you will be contacted via the email address registered to the Steam account(s) linked on the Videos workshop page.
Kuinka lähetän videon?
Siirry lyhytfilmikilpailun sopimussivulle: täällä. Kirjaudu sisään ja hyväksy sopimus.
Hyväksyttyäsi siirry Steam-profiilin "Videot"-sivulle, jonka löydät kohdasta [tilisi nimi] > sisältö > videot, tai tästä linkistä:https://steamcommunity.com/my/videos/
Jos et ole vielä yhdistänyt YouTube-tiliäsi Steam-profiiliisi, sinun täytyy tehdä se painamalla "Liitä YouTube-tili"-painiketta oikeassa yläkulmassa.
Kun YouTube-tilisi on yhdistetty Steam-tiliisi, paina 'Lisää videoita YouTube-palvelusta' -painiketta videot-sivullasi.
Valitse video, jonka haluat ladata Youtube-videolistastasi ja kysyttäessä valitse 'Liitä video(t) peliin' ja valitse 'Dota 2 - lyhytfilmikilpailu'. Tämän jälkeen paina 'Lisää video' -painiketta.
Olet nyt onnistuneesti lähettänyt videosi Dota 2 -lyhytfilmikilpailuun.
Kuinka voin arvioida videot?
Auta videoiden arviointia ja keskustele niistä täällä:
Dota 2 -lyhytfilmikilpailun yhteisösivulle
.
Muut auttoivat tuotokseni tekemisessä. Kuinka lisään heidät tekijöiksi?
Kun olet ladannut kilpailuvideon, sen pitäisi ilmestyä Steam-yhteisösi videot-osioon. Avaa videosi klikkaamalla sitä ja valitse 'Näytä kommentit ja lisätietoja' nähdäksesi omistajan valinnat ja lisätäksesi tekijöitä.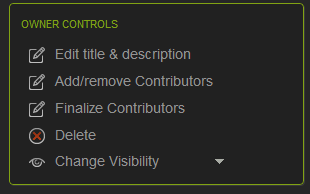 Valitsemalla 'Lisää/poista tekijä' näet listan kavereistasi. Valitse kaverisi lisätäksesi hänet tekijäksi luomukselle.
Kaverisi pitäisi saada sähköpostissa ilmoitus lisäyksestä joka hänen täytyy hyväksyä tai hylätä. Muistuta kavereitasi hyväksymään ilmoitus ennen määräajan umpeutumista!
Mistä löydän aiemmat ehdokkaat?
You can view The International 2017 submissions
täällä
.