Guidelines
Entries must be no longer than 90 seconds.
Entries must pertain to Dota 2.
Entries can use any form or combination of animation or live-action technique in their creation. Using Source Filmmaker is not a requirement.
Each entry must be at least 1080p.
The deadline for submission will be 04:00:00 PDT on the morning of August 7th, 2018. The submission process must be completed, including uploading the video and filling out submission dialogs, before the submission period ends.
Submissions will be reviewed by the Steam community on the Steam Workshop. The top entries will be selected by Valve in its sole discretion to be featured in The International 2018 Battle Pass for a final vote by the Battle Pass community, and the winners will be announced at The International 2018.
The video must be a new creation made specifically for the Dota 2 Filmmaker Contest.
You are free to use any Valve IP.
If you use any non-Valve IP, you must be the copyright owner or have explicit permission from the owner. You will be required to warrant to Valve that you have all necessary rights and permissions in order for the entry to be considered. Any submissions found to be infringing non-Valve IP will be disqualified. Note that for workshop items, you still need to provide a link to the items used, but you do not need explicit permission from the creator, since submission to the workshop automatically grants permission to use the item.
Multiple submissions per person are allowed.
Submissions must be free of advertisements.
Prizes
Each of the top submissions will be featured in The International 2018 Battle Pass for a final selection process by the Battle Pass community, and the winning entries will be announced and showcased on the screens and stage of The International 2018. Valve will award $25,000 to 1st place; $10,000 to 2nd place; $5,000 to 3rd place; and $500 to each of the other seven finalists. If your video is selected to appear in The International 2018 Battlepass, you will be contacted via the email address registered to the Steam account(s) linked on the Videos workshop page.
Come faccio a inviare il mio video?
Vai alla pagina del contratto del concorso di cortometraggi qui. Accedi e accetta il contratto
Dopo aver accettato il contratto, accedi alla sezione "Video" del tuo profilo di Steam spostando il mouse sul nome del tuo account, selezionando "Contenuti" e poi "Video", oppure cliccando sul seguente link: https://steamcommunity.com/my/videos/
Se non hai ancora collegato l'account di YouTube al tuo profilo di Steam, fallo subito cliccando il pulsante "Collega account di YouTube" in alto a destra.
Una volta che l'account di YouTube sarà collegato al tuo profilo di Steam, clicca il pulsante "Aggiungi video da YouTube" sulla pagina dei tuoi video.
Scegli il video che vuoi caricare dalla lista dei video di YouTube, dopodiché, quando ti verrà chiesto, seleziona "Associa il/i video ad un gioco" e scegli "Dota 2 - Short Film Contest". Infine clicca sul pulsante "Aggiungi video".
Il tuo video per il concorso di cortometraggi di Dota 2 è stato inviato con successo.
Come faccio a votare i video inviati?
Aiutaci votando e revisionando i video inviati sulla
pagina della Comunità del concorso di cortometraggi di Dota 2
.
Sono stato aiutato da altri nella realizzazione della mia opera. Come faccio ad aggiungere dei coautori?
Una volta inviato, il video dovrebbe apparire nella sezione video della tua pagina della Comunità di Steam. Da lì, clicca sul video; quando si apre, clicca su "Mostra commenti e dettagli" per accedere ai controlli da proprietario e per aggiungere dei collaboratori.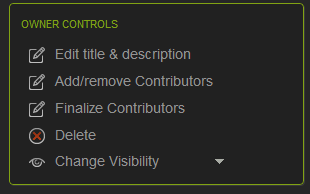 Cliccando su "Aggiungi/Rimuovi collaboratori", una finestra di dialogo apparirà per mostrarti la lista dei tuoi amici. Clicca sugli amici che vuoi selezionare come co-autori della tua opera.
I tuoi amici riceveranno un'email che consentirà loro di confermare o rifiutare la collaborazione per l'opera inviata. Assicurati che confermino tutti prima della scadenza!
Dove posso vedere i video dell'anno scorso?
Puoi vedere i video del The International del 2017
qui
.