Guidelines
Entries must be no longer than 90 seconds.
Entries must pertain to Dota 2.
Entries can use any form or combination of animation or live-action technique in their creation. Using Source Filmmaker is not a requirement.
Each entry must be at least 1080p.
The deadline for submission will be 04:00:00 PDT on the morning of August 7th, 2018. The submission process must be completed, including uploading the video and filling out submission dialogs, before the submission period ends.
Submissions will be reviewed by the Steam community on the Steam Workshop. The top entries will be selected by Valve in its sole discretion to be featured in The International 2018 Battle Pass for a final vote by the Battle Pass community, and the winners will be announced at The International 2018.
The video must be a new creation made specifically for the Dota 2 Filmmaker Contest.
You are free to use any Valve IP.
If you use any non-Valve IP, you must be the copyright owner or have explicit permission from the owner. You will be required to warrant to Valve that you have all necessary rights and permissions in order for the entry to be considered. Any submissions found to be infringing non-Valve IP will be disqualified. Note that for workshop items, you still need to provide a link to the items used, but you do not need explicit permission from the creator, since submission to the workshop automatically grants permission to use the item.
Multiple submissions per person are allowed.
Submissions must be free of advertisements.
Prizes
Each of the top submissions will be featured in The International 2018 Battle Pass for a final selection process by the Battle Pass community, and the winning entries will be announced and showcased on the screens and stage of The International 2018. Valve will award $25,000 to 1st place; $10,000 to 2nd place; $5,000 to 3rd place; and $500 to each of the other seven finalists. If your video is selected to appear in The International 2018 Battlepass, you will be contacted via the email address registered to the Steam account(s) linked on the Videos workshop page.
Como é que envio um vídeo?
Vai até à página do acordo do concurso de curtas aqui. Inicia sessão e aceita o acordo.
Depois de aceitares o acordo, vai até à página de 'Vídeos' do teu perfil Steam, que podes encontrar passando o cursor sobre a tua alcunha na aplicação Steam, selecionando "As Minhas Criações" e depois "Vídeos", ou usando o seguinte link: http://steamcommunity.com/my/videos/
Se ainda não associaste a tua conta do YouTube ao teu perfil do Steam, vais precisar de fazê-lo, clicando no botão 'Associar conta do YouTube' no canto superior direito.
Assim que a tua conta do YouTube estiver associada à tua conta Steam, clica no botão 'Adicionar vídeos do YouTube' na página dos teus Vídeos.
Seleciona o vídeo que gostarias de enviar a partir da lista dos teus vídeos do YouTube e depois, quando pedido, seleciona 'Associa o(s) vídeo(s) a um jogo.' e escolhe 'Dota 2 - Short Film Contest'. Por fim, clica no botão 'Adicionar vídeo'.
Enviaste agora com sucesso o teu vídeo ao Concurso de Curtas do Dota 2.
Como é que eu posso ver ou votar nos vídeos?
Podes ver ou votar nos vídeos visitando a
página do concurso comunitário de curtas do Dota 2
.
Outras pessoas ajudaram-me a fazer o projeto. Como é que as adiciono como co-autores?
Assim que enviares um projeto, este deverá aparecer na respetiva secção na tua página de criações na Comunidade Steam. A partir daí, clica simplesmente no projeto; assim que aparecer, deves ter acesso às opções de autor e adicionar colaboradores.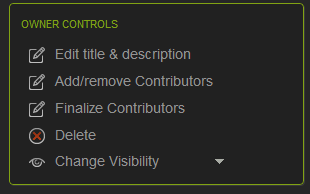 Se clicares em "Adicionar/remover colaboradores", aparecerá uma janela com a tua lista de amigos. Clica em amigos para selecioná-los como coautores do teu projeto.
Os teus amigos deverão então receber um e-mail que lhes permitirá aceitar ou declinar a confirmação de serem marcados como colaboradores do projeto. Lembra-te: os coautores têm de aceitar antes do prazo!
Como posso ver os vídeos do ano passado?
You can view The International 2017 submissions
aqui
.