Guidelines
Entries must be no longer than 90 seconds.
Entries must pertain to Dota 2.
Entries can use any form or combination of animation or live-action technique in their creation. Using Source Filmmaker is not a requirement.
Each entry must be at least 1080p.
The deadline for submission will be 04:00:00 PDT on the morning of August 7th, 2018. The submission process must be completed, including uploading the video and filling out submission dialogs, before the submission period ends.
Submissions will be reviewed by the Steam community on the Steam Workshop. The top entries will be selected by Valve in its sole discretion to be featured in The International 2018 Battle Pass for a final vote by the Battle Pass community, and the winners will be announced at The International 2018.
The video must be a new creation made specifically for the Dota 2 Filmmaker Contest.
You are free to use any Valve IP.
If you use any non-Valve IP, you must be the copyright owner or have explicit permission from the owner. You will be required to warrant to Valve that you have all necessary rights and permissions in order for the entry to be considered. Any submissions found to be infringing non-Valve IP will be disqualified. Note that for workshop items, you still need to provide a link to the items used, but you do not need explicit permission from the creator, since submission to the workshop automatically grants permission to use the item.
Multiple submissions per person are allowed.
Submissions must be free of advertisements.
Prizes
Each of the top submissions will be featured in The International 2018 Battle Pass for a final selection process by the Battle Pass community, and the winning entries will be announced and showcased on the screens and stage of The International 2018. Valve will award $25,000 to 1st place; $10,000 to 2nd place; $5,000 to 3rd place; and $500 to each of the other seven finalists. If your video is selected to appear in The International 2018 Battlepass, you will be contacted via the email address registered to the Steam account(s) linked on the Videos workshop page.
Hur laddar jag upp en inlämning?
Gå till kortsfilmstävlingens avtalssida här. Logga in och godkänn avtalet.
När du har godkänt avtalet, gå till din Steam-profils Video-sida, vilket du hittar på Steam genom att hålla musen över ditt kontonamn, välja Innehåll, sedan Videoklipp, eller genom att använda följande länk:https://steamcommunity.com/my/videos/
Om du ännu inte har länkat ditt YouTube-konto till din Steam-profil, så kommer du behöva göra det genom att klicka på knappen "Länka YouTube-konto" i det övre högra hörnet.
När ditt YouTube-konto har länkats till ditt Steam-konto, klicka på knappen "Lägg till videoklipp från YouTube" på din videosida.
Välj videoklippet som du vill ladda upp från listan över dina YouTube-klipp, och välj sedan "Associera videoklipp med ett spel" när du blir omfrågad och välj "Dota 2 - Kortfilmstävling". Klicka sedan på knappen "Lägg till videoklipp".
Du har nu skickat in ditt videoklipp till kortfilmstävlingen för Dota 2 .
Hur visar eller röstar jag på videor?
Du kan visa och/eller rösta på videor genom att gå till
Dota 2 Kortfilmstävling gemenskapssida
.
Andra personer har hjälpt mig med mitt arbete. Hur lägger jag till dem som medförfattare?
När du har laddat upp ett inlägg, så borde den dyka upp i video-sektionen av din Steam-gemenskapssida. Härifrån kan du enkelt klicka på videon; när den dyker upp, klicka på 'Visa kommentarer och detaljer' för att visa ägarinställningar och lägga till medarbetare.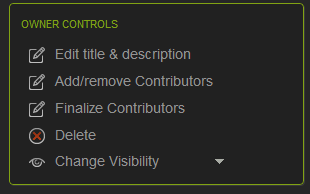 När du klickar på "Lägg till/ta bort medverkande" kommer din vänlista att visas. Klicka på vänner för att markera dem som medskapare av din inlämning.
Dina vänner får ett e-postmeddelande som låter dem acceptera eller avböja om de vill vara medskapare till inlämningen. Kom ihåg att få dina medskapare att acceptera innan deadline!
Hur tittar jag på tidigare bidrag?
Du kan se bidragen för The International 2017
här
.