Creating items for Dark Willow
Below you'll find technical information necessary to create a valid item for Dark Willow.



Dark Willow bio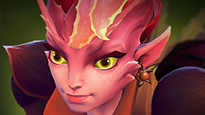 Children love telling stories about the whimsical adventures of fairies... That's because children don't know that most fairies are spiteful jerks. And in the world of spiteful fairies there are few names spoken of with more contempt than Mireska Sunbreeze.
Born to a fae merchant king, Mireska grew up in Revtel; a cutthroat nation where manipulation and murder were the norm. But while she was quite adept at navigating the etiquette, unspoken laws, and social rituals that permeated every element of her life, she found the whole thing rather boring.
So, Mireska did what most rebellious children do: burn down her family estate and set off with her pet wisp Jex to live the life of a wandering grifter.

Model and texture files

Item slots and their budgets
Head
LoD0 Triangle Limit: 3000
LoD1 Triangle Limit: 1200
Texture Size: 512H x 512W
Back
LoD0 Triangle Limit: 4000
LoD1 Triangle Limit: 1600
Texture Size: 512H x 512W
Offhand
LoD0 Triangle Limit: 2500
LoD1 Triangle Limit: 1000
Texture Size: 256H x 256W
Armor
LoD0 Triangle Limit: 3000
LoD1 Triangle Limit: 1500
Texture Size: 512H x 512W
Belt
LoD0 Triangle Limit: 1500
LoD1 Triangle Limit: 750
Texture Size: 256H x 256W