Creating items for Pangolier
Below you'll find technical information necessary to create a valid item for Pangolier.



Pangolier bio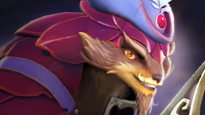 The men and women that make up the Nivan Gallants live a life of swordplay, chandelier swinging, and tawdry romance. And while all adhere to their creed that "A life of adventure is the only life worth living," the exploits of Donté Panlin still manage to raise the eyebrows of even the most hedonistic of swordsmen.
There is no monster he won't slay. No creature he won't woo. No tyrant he won't stand against. And no noble immune to his silver tongue.

Model and texture files

Item slots and their budgets
Head
LoD0 Triangle Limit: 3000
LoD1 Triangle Limit: 1200
Texture Size: 512H x 512W
Weapon
LoD0 Triangle Limit: 2500
LoD1 Triangle Limit: 1000
Texture Size: 256H x 256W
Weapon Offhand
LoD0 Triangle Limit: 2500
LoD1 Triangle Limit: 1000
Texture Size: 256H x 256W
Armor
LoD0 Triangle Limit: 5000
LoD1 Triangle Limit: 2000
Texture Size: 512H x 512W