Creating items for Elder Titan
Below you'll find technical information necessary to create a valid item for Elder Titan.



Elder Titan bio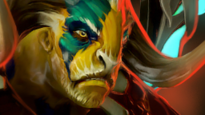 Well may you ask, "How did this world take its form?" Why of all the worlds in creation, has this one its strange properties, its diverse and motley collection of creatures, cultures and lore? "The answer," One whispers, "lies with the Titans."
These original progenitors were there near the Beginning--if not actual witnesses to the creation, then born with it still echoing in their ears. Stamped with the earliest energies of the universe, they wished nothing more than to continue as creators themselves. Thus they bent to the task of shaping matter to their will: hammering and heating, bending and blasting. And when matter proved less challenging than they liked, they turned their tools upon themselves, reshaping their minds and reforging their spirits until they had become beings of great endurance. Reality itself became the ultimate object of their smithing. Yet, along the way, they sometimes erred. In cases of great ambition, mistakes are unavoidable.
The one we know as the Elder Titan was a great innovator, one who studied at the forge of creation. In honing his skills, he shattered something that could never be repaired, only thrown aside. He fell into his own broken world, a shattered soul himself. There he dwelt among the jagged shards and fissured planes, along with other lost fragments that had sifted down through the cracks in the early universe. And this is why the world we know resembles an isle of castaways, survivors of a wreck now long forgotten. Forgotten, that is, by all but the One who blames himself. He spends his time forever seeking a way to accomplish the repairs, that he might rejoin the parts of his broken soul, that we and the world alike might all be mended. This is the One we know as Elder Titan.

Model and texture files

Item slots and their budgets
Head
LoD0 Triangle Limit: 3000
LoD1 Triangle Limit: 1200
Texture Size: 512H x 512W
Shoulders
LoD0 Triangle Limit: 3000
LoD1 Triangle Limit: 1200
Texture Size: 512H x 512W
Arms
LoD0 Triangle Limit: 1500
LoD1 Triangle Limit: 600
Texture Size: 256H x 256W
Back
LoD0 Triangle Limit: 2500
LoD1 Triangle Limit: 1000
Texture Size: 256H x 512W
Weapon
LoD0 Triangle Limit: 2500
LoD1 Triangle Limit: 1000
Texture Size: 256H x 256W
This model should primarily be bound to the bone: weapon_1