Creating items for Faceless Void
Below you'll find technical information necessary to create a valid item for Faceless Void.



Faceless Void bio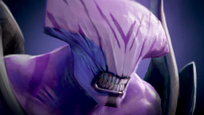 Darkterror the Faceless Void is a visitor from Claszureme, a realm outside of time. It remains a mystery why this being from another dimension believes the struggle for the Nemesis Stones is worth entering our physical plane, but apparently an upset in the balance of power in this world has repercussions in adjacent dimensions. Time means nothing to Darkterror, except as a way to thwart his foes and aid his allies. His long-view of the cosmos has given him a remote, disconnected quality, although in battle he is quite capable of making it personal.

Model and texture files

Item slots and their budgets
Body - Head
LoD0 Triangle Limit: 3000
LoD1 Triangle Limit: 1200
Texture Size: 512H x 512W
Shoulders
LoD0 Triangle Limit: 3000
LoD1 Triangle Limit: 1200
Texture Size: 512H x 512W
Arms
LoD0 Triangle Limit: 1500
LoD1 Triangle Limit: 600
Texture Size: 256H x 256W
Weapon
LoD0 Triangle Limit: 2500
LoD1 Triangle Limit: 1000
Texture Size: 256H x 256W
This model should primarily be bound to the bone: Staff1_0
Belt
LoD0 Triangle Limit: 1500
LoD1 Triangle Limit: 600
Texture Size: 256H x 256W