Creating items for Chen
Below you'll find technical information necessary to create a valid item for Chen.



Chen bio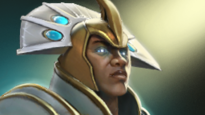 Born in the godless Hazhadal Barrens, Chen came of age among the outlaw tribes who eked out an existence in the shimmering heat of the desert. Using an ancient form of animal enthrallment, Chen's people husbanded the hardy desert locuthi, a stunted species of burrowing dragon that melted desert sands into tubes of glass where twice-a-year rains collected. Always on the edge of starvation and thirst, fighting amongst their neighbors and each other, Chen's clan made the mistake, one fateful day, of ambushing the wrong caravan.
In the vicious battle that followed, Chen's clan was outmatched. The armored Knights of the Fold made short work of the enthralled locuthi, who attacked and died in waves. With their dragons dead, the tribesmen followed. Chen struggled, and slashed, and clawed, and perished--or would have. Defeated, on his knees, he faced his execution with humility, offering his neck to the blade. Moved by Chen's obvious courage, the executioner halted his sword. Instead of the blade, Chen was given a choice: death or conversion. Chen took to the faith with a ferocity. He joined the Fold and earned his armor one bloody conversion at a time. Now, with the fanaticism of a convert, and with his powers of animal enthrallment at their peak, he seeks out unbelievers and introduces them to their final reward.

Model and texture files

Item slots and their budgets
Head
LoD0 Triangle Limit: 2500
LoD1 Triangle Limit: 1200
Texture Size: 512H x 512W
Shoulders
LoD0 Triangle Limit: 3500
LoD1 Triangle Limit: 1400
Texture Size: 512H x 512W
Arms
LoD0 Triangle Limit: 1500
LoD1 Triangle Limit: 600
Texture Size: 256H x 256W
Weapon
LoD0 Triangle Limit: 2500
LoD1 Triangle Limit: 1000
Texture Size: 256H x 256W
This model should primarily be bound to the bone: weapon1_0
Mount
LoD0 Triangle Limit: 6000
LoD1 Triangle Limit: 2400
Texture Size: 512H x 512W
The mount slot now includes the mount armor.