Creating items for Slardar
Below you'll find technical information necessary to create a valid item for Slardar.



Slardar bio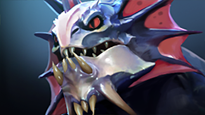 Slardar is a Slithereen, one of the Deep Ones, guardian of a vast network of sunken cities and the ancient riches buried within them. In the lightless gulf of the deepest ocean abysses, the Slithereen Guard patrols secret treasure rooms, ever vigilant against the subaqueous thieves sent into the deeps by covetous dryland sorcerers. He is utterly loyal, and his taciturn nature hides deep knowledge of the most secret places of the sea. He rises to the shallows in spite of the pain caused him by brightness, to commit reconnaissance, to make sure no one is conspiring against the depths, and sometimes in relentless pursuit of the rare few who manage to steal off with an item from the Sunken Treasury. Because he has spent his whole life at great pressure, under tremendous weight of the sea, Slardar the Slithereen Guard is a creature of immense power.

Model and texture files

Item slots and their budgets
Head
LoD0 Triangle Limit: 3000
LoD1 Triangle Limit: 1200
Texture Size: 512H x 512W
Arms
LoD0 Triangle Limit: 1500
LoD1 Triangle Limit: 600
Texture Size: 256H x 256W
Back
LoD0 Triangle Limit: 4000
LoD1 Triangle Limit: 1600
Texture Size: 512H x 512W
Weapon
LoD0 Triangle Limit: 2500
LoD1 Triangle Limit: 1000
Texture Size: 256H x 256W
This model should primarily be bound to the bone: weapon_1