Creating items for Tidehunter
Below you'll find technical information necessary to create a valid item for Tidehunter.



Tidehunter bio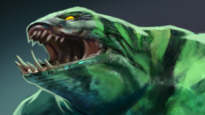 The Tidehunter known as Leviathan was once the champion of the Sunken Isles, but his motives are as mysterious as those of his people. We all know the importance of the Drylanders' shipping lanes, how empires may rise and fall according to who controls the open water. Far less is known of the submarine lanes, and how the warring tribes of the Meranthic Diaspora have carved out habitations through endless undersea skirmishes. In the fragile treaties between the Mer and Men, we can glimpse the extent of the drowned empires, but their politics appear complex and opaque. It would seem that Leviathan tired of such petty strife, and set off on his own, loyal only to his abyssal god, Maelrawn the Tentacular. He stalks the shallows now in search of men or meranths who stray into his path, and with a particular loathing for Admiral Kunkka, who has long been his nemesis for reasons lost in the deepest trenches of the sea.

Model and texture files

Item slots and their budgets
Head
LoD0 Triangle Limit: 3000
LoD1 Triangle Limit: 1200
Texture Size: 512H x 512W
Arms
LoD0 Triangle Limit: 1500
LoD1 Triangle Limit: 600
Texture Size: 256H x 256W
Back
LoD0 Triangle Limit: 3000
LoD1 Triangle Limit: 1200
Texture Size: 512H x 512W
Weapon
LoD0 Triangle Limit: 2500
LoD1 Triangle Limit: 1000
Texture Size: 256H x 256W
If your weapon item is not using the cloth simulation, please ensure that none of the mesh is skinned to joints hook_R0C0,hook_R1C0 or hook_R2C0
This model should primarily be bound to the bone: hook_1
Weapon Offhand
LoD0 Triangle Limit: 2500
LoD1 Triangle Limit: 1000
Texture Size: 256H x 256W
If your offhand item is not using the cloth simulation, please ensure that none of the mesh is skinned to joints fish_R1C0, fish_R2C0, fish_R3C0 or fish_R4C0.
This model should primarily be bound to the bone: fish_R0C0
Belt
LoD0 Triangle Limit: 1500
LoD1 Triangle Limit: 600
Texture Size: 256H x 256W