Creating items for Witch Doctor
Below you'll find technical information necessary to create a valid item for Witch Doctor.



Witch Doctor bio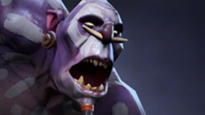 A wiry silhouette hitches forward--uneven of feature and limb, bizarre of gait, relentlessly criss-crossing the battlefield in search of that vital weak point where his talents can do most good, and most harm. Whether broken or mismade it is not clear, but still, none can doubt the power carried in his twisted physique. A long staff thumps the earth as Zharvakko the Witch Doctor advances, deploying a terrifying arsenal of fetishes, hexes and spells. It is a body of magical knowledge learned and perfected over several lifetimes in the island highlands of Arktura, now wielded with precision accuracy against his enemies. Zharvakko can be your best friend or your worst enemy--healing allies and laying waste to all who oppose him.

Model and texture files

Item slots and their budgets
Head
LoD0 Triangle Limit: 3000
LoD1 Triangle Limit: 1200
Texture Size: 512H x 512W
Shoulders
LoD0 Triangle Limit: 2500
LoD1 Triangle Limit: 1000
Texture Size: 256H x 256W
Back
LoD0 Triangle Limit: 3000
LoD1 Triangle Limit: 1200
Texture Size: 256H x 256W
Weapon
LoD0 Triangle Limit: 2500
LoD1 Triangle Limit: 1000
Texture Size: 256H x 256W
This model should primarily be bound to the bone: staff_1
Belt
LoD0 Triangle Limit: 1500
LoD1 Triangle Limit: 600
Texture Size: 256H x 256W
Ward (Summon)
LoD0 Triangle Limit: 4000
LoD1 Triangle Limit: 2000
Texture Size: 512H x 512W