1. Hent Dota 2 på Steam
Besøk Steam-siden til
Dota 2
og klikk på "Hent Dota 2"-knappen. Foreløpig, vil du bli lagt til i lanseringskøen, og vi vil sende deg en e-post når vi er klar for at du kan spille. Antall spillere som slippes inn vil gradvis øke, slik at vi kan spre ut lanseringsbelastningen over tid.
2. Spiss ferdighetene dine i den nye brukeropplevelsen
Once you're in, you can get a feel for what Dota 2 is all about by playing through the tutorial. After you've mastered some of the basics of the game, we have AI controlled bots for you to battle against, which can be set to a number of different skill levels. You can even grab a group of friends to play against the bots. It's a great way to get started playing Dota 2 and figuring out who will be your first favorite hero.
3. La lekene begynne!
Once you are ready to start playing full games via matchmaking, we'll keep an eye on how you're doing and make sure that you're playing against other players of your skill level. There is also a party system, so you and up to four of your friends can all play together on the same team. Like we
mentioned
before, the launch of Dota 2 is going to take on a different shape than products we've shipped in the past. Our thinking is that we want the existing audience to have uninterrupted access during the launch, in addition to bringing new players into Dota 2 in a way that isn't frustrating. Simply put, we want to smooth out the traditional launch spike, but at the same time allow anyone to come in and try out Dota 2.
Dota 2's user base is already larger than any game we've ever made, and it continues to grow. Knowing this launch moment was coming, we've spent the past year working on getting both the backend infrastructure and new user experience into a state where we can welcome in anyone that wants to give the game a try. With that work now complete, it is time for us to invite anyone and everyone to come play.
If you want to give Dota a try, or you have a friend you want to bring into the community, click the button above and you can get in the launch queue. You'll see your place in line, and when it is your turn we'll send you an email letting you know you're in. We'll begin sending those emails this week.
We also have an update from our world-travelling server installation team, who in addition to achieving triple diamond platinum/uranium/aegis level frequent flyer status, also have added significant game server capacity. Most of this trip has been to add capacity to Stockholm and Luxembourg, but we've also recently added servers to US West and our new cluster in Korea. Don't worry if your cluster isn't listed here, we're ready to add as many servers as needed as the user base grows. Here are some photos from the Luxembourg datacenter: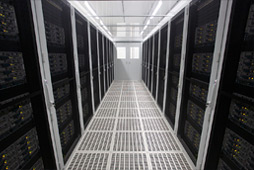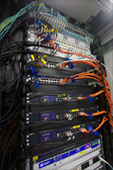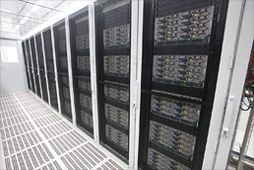 These servers represent the ability to host an additional 450,000 players concurrently. Figuring out how much capacity to add, and where, is one important aspect of this launch. For the stats people out there, concurrent numbers are more useful when predicting what capacity we need for specific regions, because Dota players in the same region tend to play during similar hours. Our worldwide active user base is roughly twelve times the peak concurrency.
Hopefully the Dota 2 beta has been as fun for you as it has been for us. While it has come to an end, we'll be building the game for a long time, and listening to what direction to take.
Hvis spillet er lansert, hvorfor kan jeg ikke spille det med en gang?
We want to avoid a situation where a rush of players overloads our server infrastructure. As we increase our capacity, we will let more people in from the launch queue.
Hvor ofte ønsker dere å slippe nye spillere inn?
New players will be added in batches. We will start letting people in and monitor how the entire system reacts, and make sure that we aren't disrupting the entire community. Our goal is to get people in as quickly as possible.
What is the difference between this and the Early Access Sign-up?
Spillet er offisielt lansert. Vi slipper til nye spillere så raskt som vår tjenerinfrastruktur tillater.
Can I join if I have an unused Dota 2 Early Access Pass?
Well, no. During the launch we need to be able to control the number of users coming into the system, and with the number of passes that are available out in the community, that could create higher demand than our server capacity can initially handle.
Kan jeg fortsatt kjøpe et tidlig tilgangspass eller startpakke til Dota 2?
Startpakkene og tidlig-tilgangpassene er avviklet. Å gå til Dota 2s Steam-side og klikke på "Få Dota 2"-knappen er måten nye spillere kan spille spillet på.
What happens to my unused Dota 2 Early Access Passes?
Everyone who participated in the Early Access phase will receive a special edition pass that indicates how many new players they brought to Dota 2 by trading Early Access Passes. Existing Early Access Passes will go away.
Are there any regions that won't be able to play Dota 2 yet?
The only regions that aren't currently launching are China and Korea, however they will be releasing in the near future. Please visit our partners:
Perfect World
in China and
Nexon
in Korea for more information.
Er Dota 2 tilgjengelig for Mac eller Linux?
Ja, Dota 2 er nå tilgjengelig for både Mac og Linux.
Nå som spillet er ute av betaversjon, er dere ferdig med å arbeide med det?
Dota 2 vil fortsette med å bevege seg fremover, slik det alltid har gjort. Vi har fortsatt noen gamle (og eventuelt noen nye) helter å slippe ut og en endeløs strøm av funksjoner å bygge. Vi slipper ut spillet nå siden det er klargjort, men selvfølgelig vil ikke det si slutten for utviklingen av spillet. Akkurat slik som vi har gjort de siste par årene som Dota 2 har vokst, så vil vi se frem til å kunne høre dine meninger om hvordan vi gjør det og om hva du ville likt at vi skulle bygge i neste omgang.